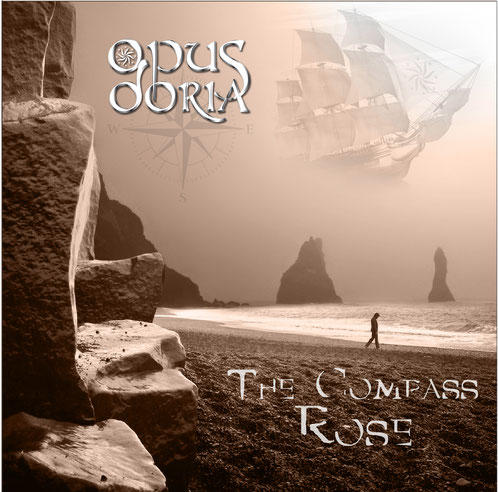 The Compass Rose (2016)
1- A Road to Infinity
2-Enigma
3-Dancing Sun
4-Fire Horses
5-Stars Reflections on the Waves
6-Frozen Flame
7-Ghost Odyssey
8-Scheol
9-Ethereal Texture
10-Heavenly Crossroads
11-Tierra de Sangre
12-The Mask We Left Behind
13-The Compass Rose
MUSICIENS :
Christel Lindstat: Chant
Flavie Nicogossian: Violoncelle, Choeur
Laura Nicogossian: Piano/Claviers/Choeur
Roman Rouzine: Guitare
Yannick Hubert: Basse/Choeur
Benoît Brune: Batterie/Percussions/Choeur
Pascal Jean: Hautbois/Instruments à vents
Delphine Labandibar: Violon
Gurvan Guillaumin: Uilleann Pipe, Whistles/Choeur
INVITES SPECIAUX :
Richard Desperes : Trompette
Christine Lanusse : Guitare classique
Composition/Textes : Laura Nicogossian
Arrangements: Opus Doria
«Là encore, la justesse de la composition et la production me transportent. Et c'est là le tour de force de cette œuvre… VOUS êtes vraiment ce navigateur. Voguant à travers des musicalités de divers horizons, changeant, au rythme de la musique... Ici la Musique est mise en avant, et de façon magistrale. La maturité de la composition est indéniable. C'est un vrai voyage chargé d'émotions que nous offre ici OPUS DORIA... Les amoureux de classique, de Musique, de métal, n'hésitez pas, ça vaut le voyage. »
(Les Seigneurs du Metal Webzine)
« Un flamboyant album de la démesure… l'écoute s'effectue d'un seul tenant, sans ombres au tableau, avec même l'indicible désir d'y revenir pour goûter à nouveau à cette mémorable ronde de saveurs. Ayant bien digéré leurs sources d'influences, nos six compères ont posé les jalons de ce qui s'apparenterait à une œuvre plus personnelle, plurielle, d'excellente facture logistique et technique, et faisant montre d'une épaisseur artistique transpirant de chaque pore de ce sculptural et troisième méfait....cet album de la démesure serait à classer parmi les œuvres majeures des valeurs montantes auxquelles serait affilié le sextet...C'est dire qu'un auditoire déjà sensibilisé aux travaux de leurs modèles identificatoires pourra à son tour adhérer à ce projet d'envergure, ce dernier alliant inspiration féconde, originalité, puissance, heureuse fusion des genres et optimale cohésion groupale. On l'aura compris, à l'aune de cette fraîche livraison, le combo signe une œuvre forte et novatrice »
(Spirit of Metal Webzine)
« This is a powerful and beautiful record mixing rock and metal with the classical giving an overall cinematic feel »
(Ravenheart Music)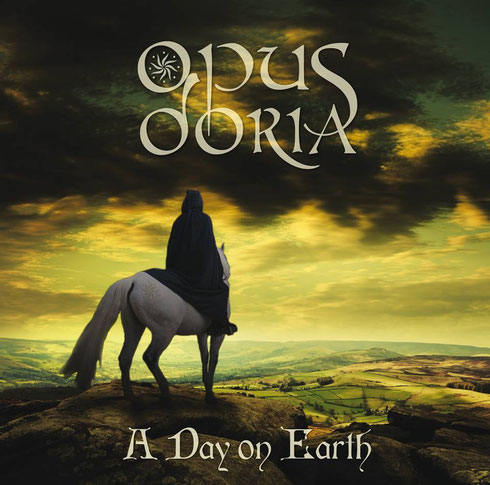 A Day on Earth (2014)

Prologue
The Mission

Crystal Ocean of Tears

Lost Children in the World

Epic Race

Wind Whispers

Requiem for a Wise Man

Christel Lindstat, vocals

Bruno Rodrigues, guitars

Laura Nicogossian, keys, piano, choir

Flavie Nicogossian, cello, choir

Yannick Hubert, bass

Benoît Brune, drums, percussions, choir

Special guests:
Julien Cloup (flute)

Pascal Jean (oboe)

Music and lyrics: Laura Nicogossian

Produced by Opus Doria

Recorded, mixed and mastered by Xavier Collard at Notilus Studio

"...La magie Opus Doria a encore opéré...C'est là que je constate vraiment le travail de composition, les arrangements, les choix des instruments, les enchaînements, la petite note qui tombe au bon moment, le tout avec un bon mixage et un son de belle qualité....
...Finalement, comme pour le premier, j'ai adhéré, sans parfois toujours comprendre précisément pourquoi, simplement parce qu'ils font de la musique comme je l'aime : de la vraie musique, travaillée, recherchée, avec un usage savant des différents instruments, beaucoup de variations, de changements de tonalités et de rythmes, et des mélodies qui vous restent dans la tête pendant toute la journée. Ah oui, rappelons que c'est quand même du métal, même si on a très vite tendance à l'oublier tant il est bien enrobé..."
Homelord.fr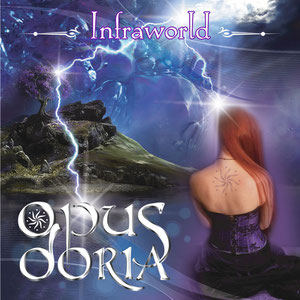 INFRAWORLD (october 2011)
         The Sundial
         The Quest
        Brain Machine
        The First Crusade
         The Cry of The Knight
         The Mission
        Reborn
        Wind Whispers
         Space of Dilemma
        A lost Planet
Maela Vergnes : Vocals
Flavie Nicogossian : Cello, Choir
Laura Nicogossian : Keyboards, Choir
Alexandre Warot : Guitars
Yannick Hubert : Bass
Jon Erviti: Drums
Music and Lyrics: Laura Nicogossian
Enregistrement, mixage et mastering: Alexandre Warot au Notilus (Clermont, 40)
Produced by Opus Doria
Engineered, mixed and mastered by Alexandre Warot
Recording in Clermont (40), Notilus Studio
"Their very impressive symphonic metal lies somewhere between Wildpath and Nightwish"
(Ravenheart Music)
«  Les parties musicales sont impressionnantes de maitrise...
On est loin du métal classique que l'on nous vend habituellement. On est vraiment plus dans du métal classique et lyrique que du symphonique. Les compos sont fortes, riches de mélodies, que l'on découvre écoute après écoute. Chaque instrument est maitrisé, une vraie leçon de musique. A découvrir. »
( Les Seigneurs du Metal )
"...just appreciating the classics won't necessarily make for good music, you have to be able to write it, produce it and perform it, and Opus Doria seems to be more than adequate at each of those requirements...I've always appreciated the classical, especially when that classical was able to mesh with the metal...What we have here is certainly one of the finest interpretations of that capability I've ever heard, solid musicians with a vocal as good as anything I've ever heard"
(Sonic Cathedral Webzine)
"Musically Opus Doria is a very interesting band with a landscape of music with influences from the medieval, baroque, symphonic classical music, metal, epic film score music, and they also partly sound progressive and heavy...The guitars is powerful with lot of cool details and solos...
The cello, piano and choirs is really entertaining and I admire musicality and creativeness like this: Just Fabulous!! ...I also like the sound and production on this album because they really manage to get forward the exact right details this kind of music shall have!! ...Infraworld from Opus Doria is just a masterpiece of an album"
(Melodic Hardrock Today)